Well what a wonderful Christmas we all had ! No to be outdone by all the festivities in December we are embarking on events for 2015, beginning with an entertainer later in the month (details in the lobby). Unfortunately our dedicated Senior Activity Coordinator, Diana, retired in December but we are hoping to employ an equally motivated and enthusiastic local individual as soon as we can. In the interim our Deputy Nurse Manager, Julia, has kindly agreed to take the helm.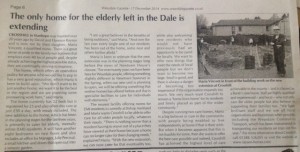 Unfortunately bad weather has hampered our new build, of late, but our contractors are acutely aware of the communities needs and are continuing to work, in some extremely difficult conditions, in order to hasten the project to completion.
We will continue to use our web site and the Gazette to keep people updated as to progress. Here's hoping we don't get much more snow !